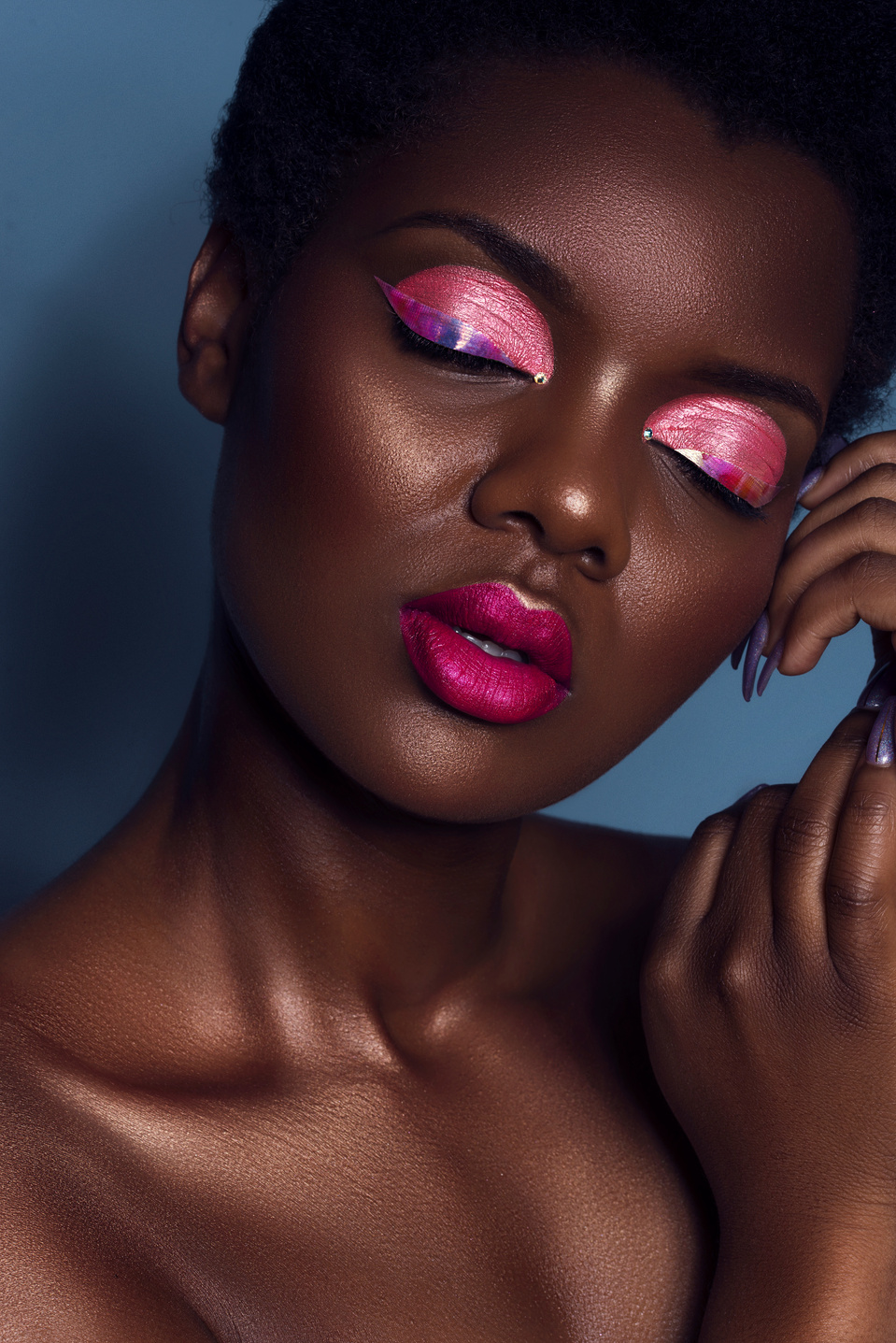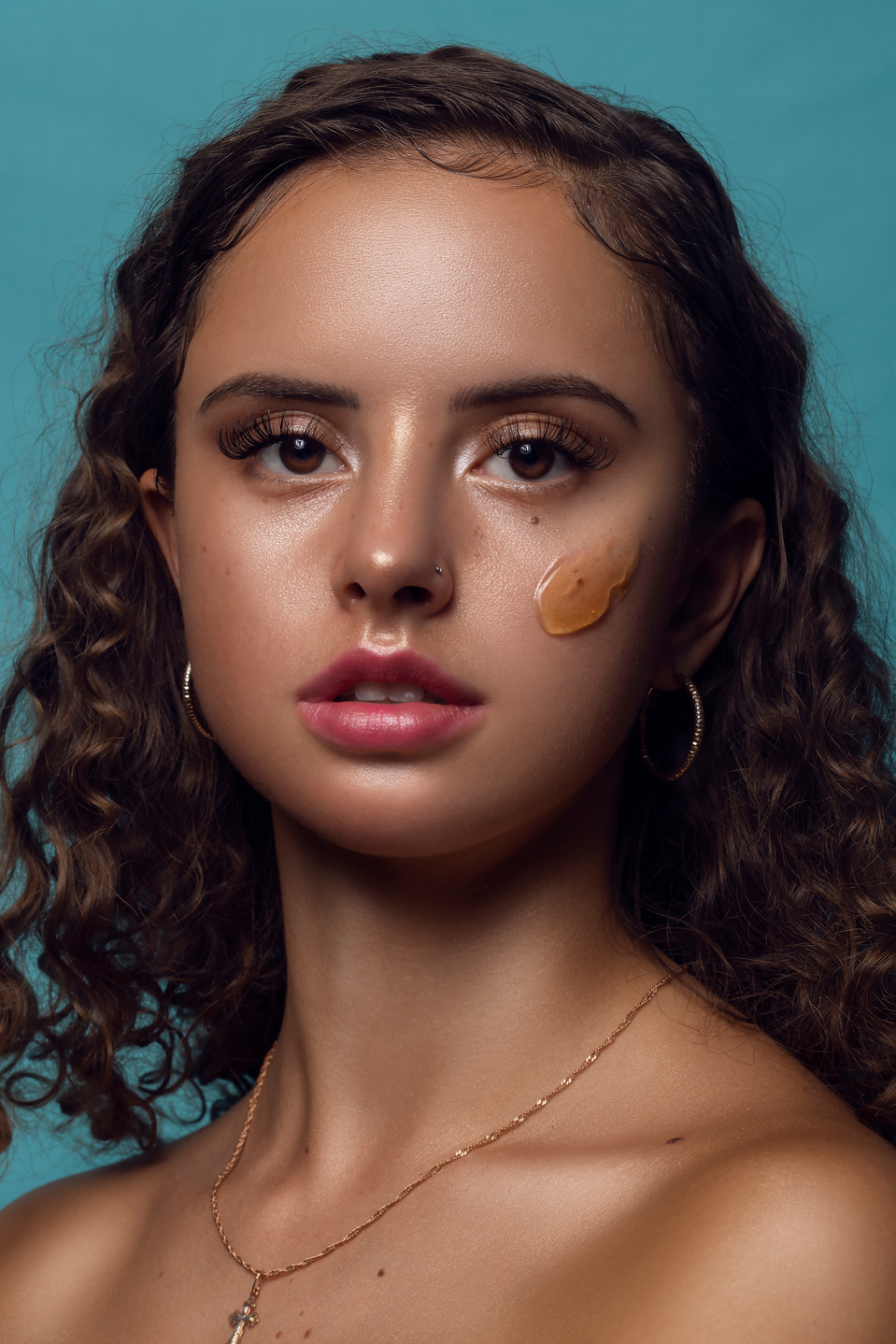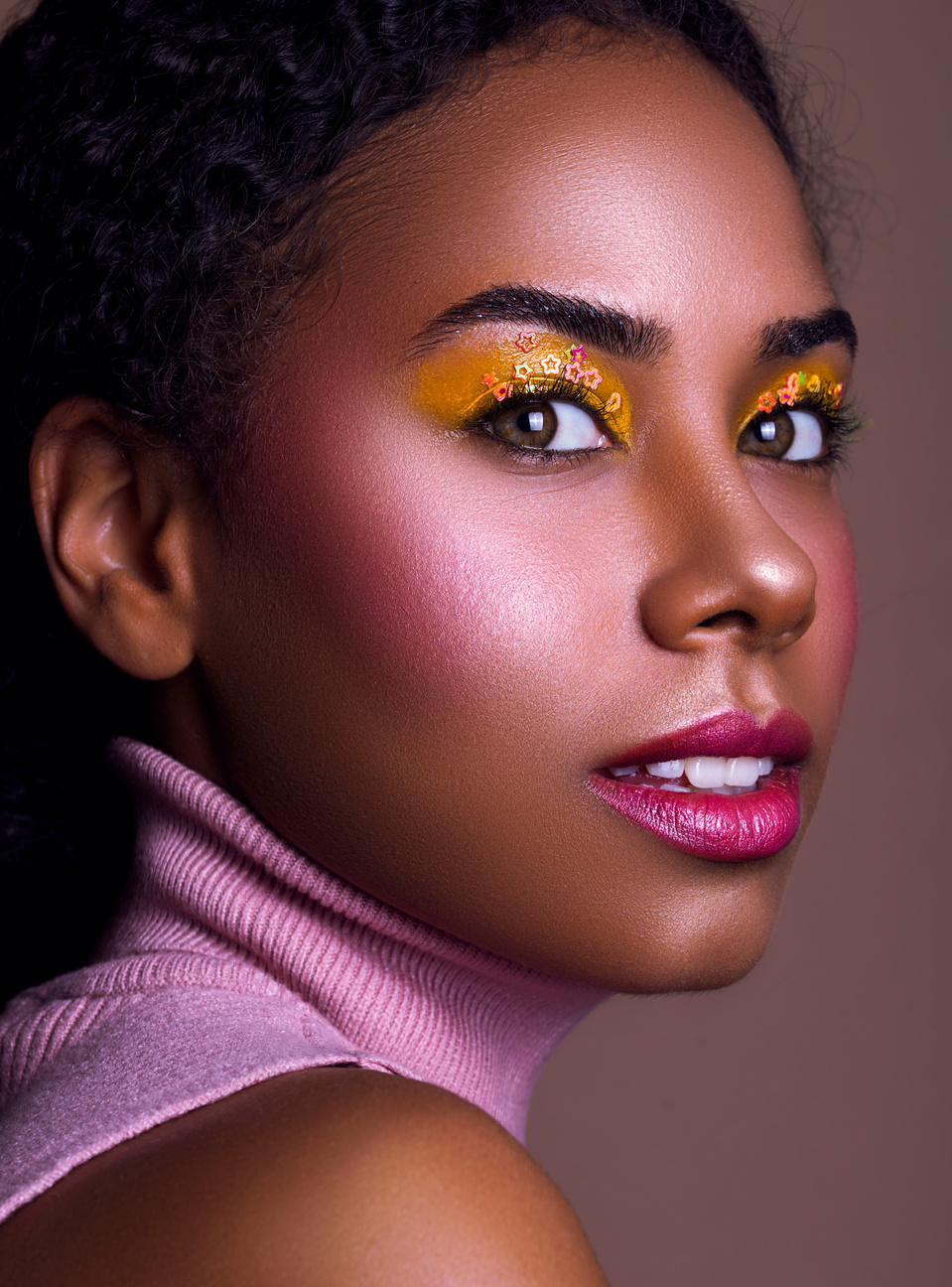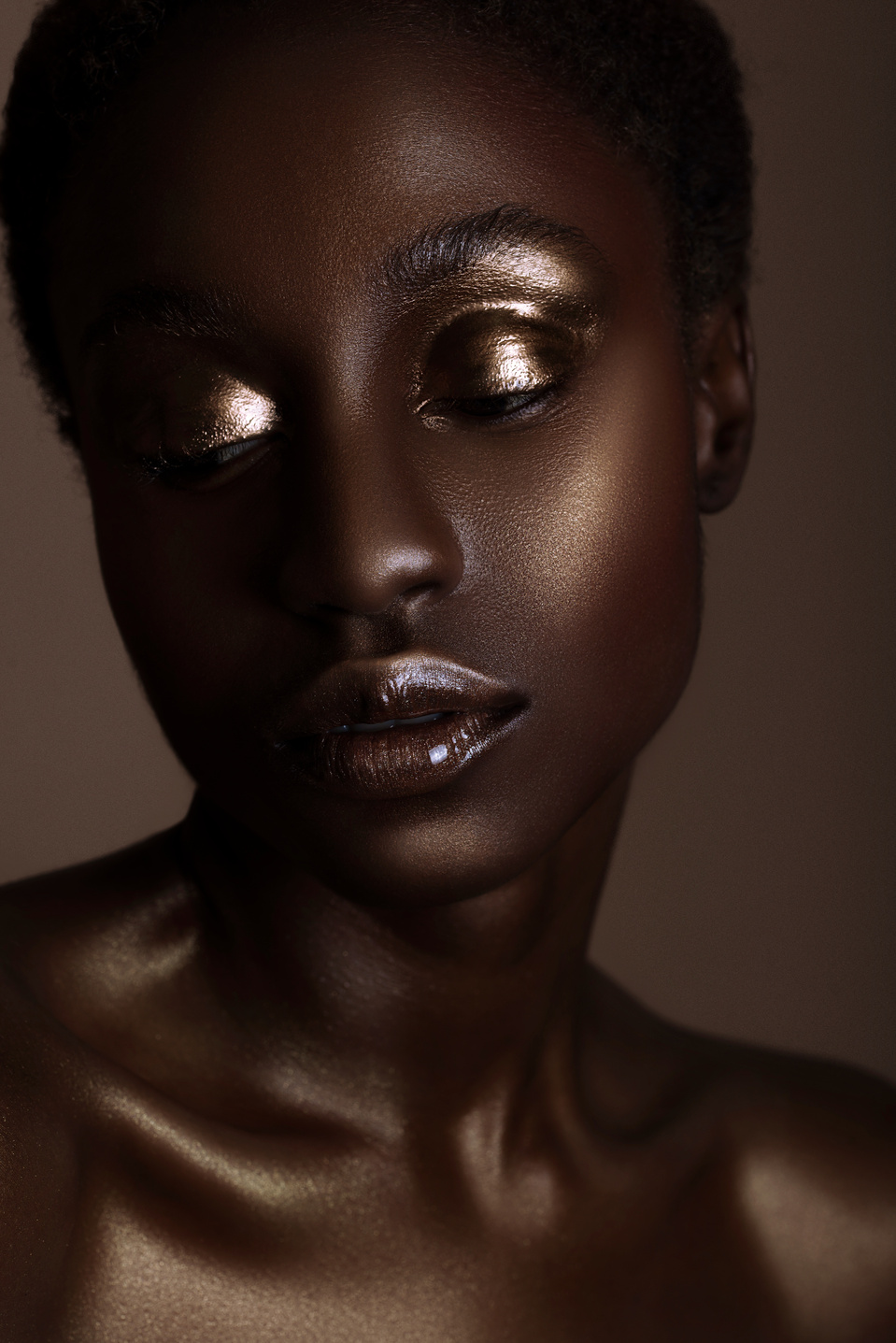 People often ask me about how I get such a glowy effect on all of my models skin and if the effect is largely due to post processing and dodging in highlights in Photoshop. And although I do absolutely accent the highlights and contours during my retouches, most of the glow is actually due to the skin preparation processes and glow products that I use before the shoot to prepare the models skin for makeup application and to give the models the look of a "natural glow" so that I don't have to over compensate with dodging in post as well as the modifiers that I use with my lighting. Below are several of my favorite products that I like to use in addition to some skin preparation techniques that help cleanse and smooth the skin.
During the last few days before a shoot, I impress upon the models how important it is to exfoliate their face, necks, hands, chest and any other areas that may be visible during the shoot. There are many ways to exfoliate. My favorite routine for a thorough exfoliation that wont irritate or strip the skin is to first wash the face with a facial cleanser. Then to apply a clay mask. After the clay mask, a slightly more abrasive exfoliant may be used if the skin is still in an amenable condition. I like to use natural products to exfoliate. My favorite are naturally abrasive materials such as coffee or sugar mixed with other natural products such as aloe, turmeric, olive oil, cranberry juice, tomato juice, coconut milk, eggs, baking soda, and/or apple cider vinegar. I then use witch hazel to tone and a facial moisturizer to replenish. This process, or whatever similar process works best for the individual, ensures that the skin is as smooth as it can possibly be before the shoot. All that being said, it is best to already have a consistent and defined skincare routine in place as many cleansing processes take time and the few days before the shoot may not be enough time for the skin to completely push out all of the dirt and impurities in the pores. Thus, ideally, the model already takes care of their skin or already has a good process in place and this pre-shoot exfoliation will just be the icing on the cake.
Breakouts, dry skin, discoloration and roughness do happen, so on set, skin prep is vital to bring an extra luminosity and glow to the skin. For glow, I like to build a few light layers of product to get a fresh clean multi dimensional glow to the skin. I also prefer products that are luminous and shine and have a smooth finish as opposed to products that are visibly glittery or have visible flecks. Being that I mostly shoot beauty and with a macro lens, my camera will pick up all of those individual glowing flecks and its not a very good imitation of a natural glow. First of course, make sure to throughly moisturize all visible areas with a rich creamy moisturizer. More is definitely more. Use ample amounts of moisturizer so that the model actually looks a bit shiny after having applied the product. You want to make sure their skin is as moisture-drunk as it possibly can be so that it doesn't want to absorb all of the cream and liquid products you're about to apply. After a moisturizer, I like to use a strobe cream. The formula basically feels like a light cream moisturizer but has a colored sheen to it. MAC Strobe Cream is my preferred product and I have all of the colors to accommodate for all skin tones. The nice thing about using the same brands and formulas for products is that you can mix and match the colors. If a product comes in a few different colors I try to get a lighter and darker color and/or a yellow toned and pink toned version of the same product so that I can mix for different skin tones. You can also get glow products from both drugstore/affordable brands as well as higher end brands. Below are some of my favorite products. I have purchased multiple bottles of most of these products.
Wet and Wild has created a lovely product called "MegaGlo". It is a very creamy, slightly oily product that separates into a clear thick oily layer and the actual glow cream. You have to shake it thoroughly in order to use it. I also find that if you roll it around in your palms or stick it in your pocket to warm it up that the product is much easier to use. Its very thick and a little goes a long way. I like the products because the colors are great and work on many different skin tones. It is not glittery and the luminosity is bright, catches the light beautifully but does not over power the skin. It can be a bit sticky so I would use it mixed into a cream product such as more strobe cream or a facial lotion to help it move around a bit more easily. I would not use on the skin on its own. I would definitely apply at least a little foundation over it to help it set as it will remain oily until you do so. If the model has dry skin, you may not need to set it as the skin may absorb those extra oils on its own.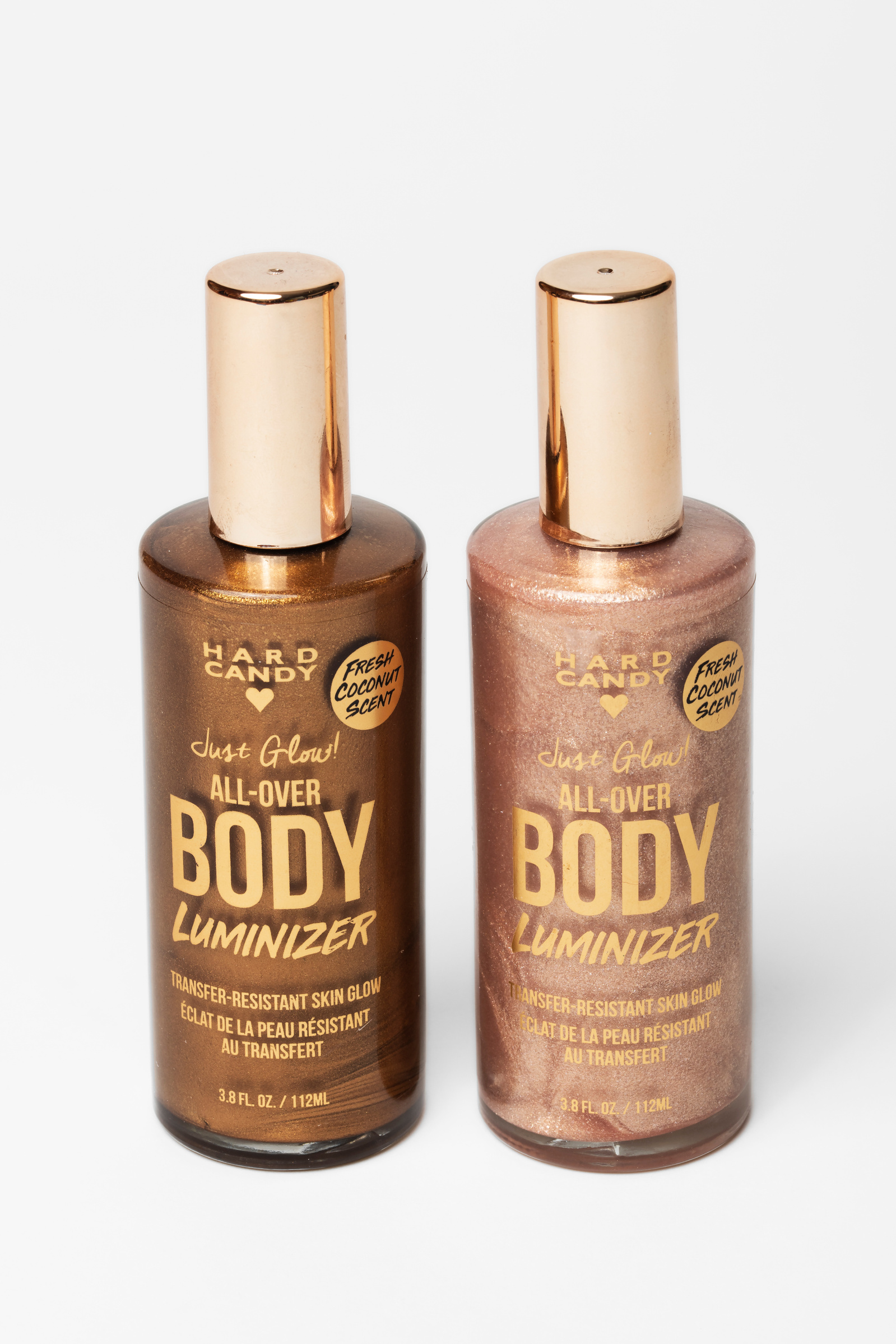 Hard Candy has created a magnificently smooth liquid called "Luminzer" which is great for creating a natural radiant glow on the models body. The bottle is huge and contains a ton of product and as with the MegaGlo, a little goes a very long way. Its very pigmented but the colors are great for all skin tones. I like this product because it does not require much shaking to mix, the product is smooth and lightweight. It is not all that oily or sticky. The product also sits beautifully under complexion products and remains luminous and bright even under slightly heavier foundation and concealers. It does set to a glowy finish after a while and no longer slides around if given time to set. So if no complexion products are needed, it can be used on the face to create a natural glow on its own.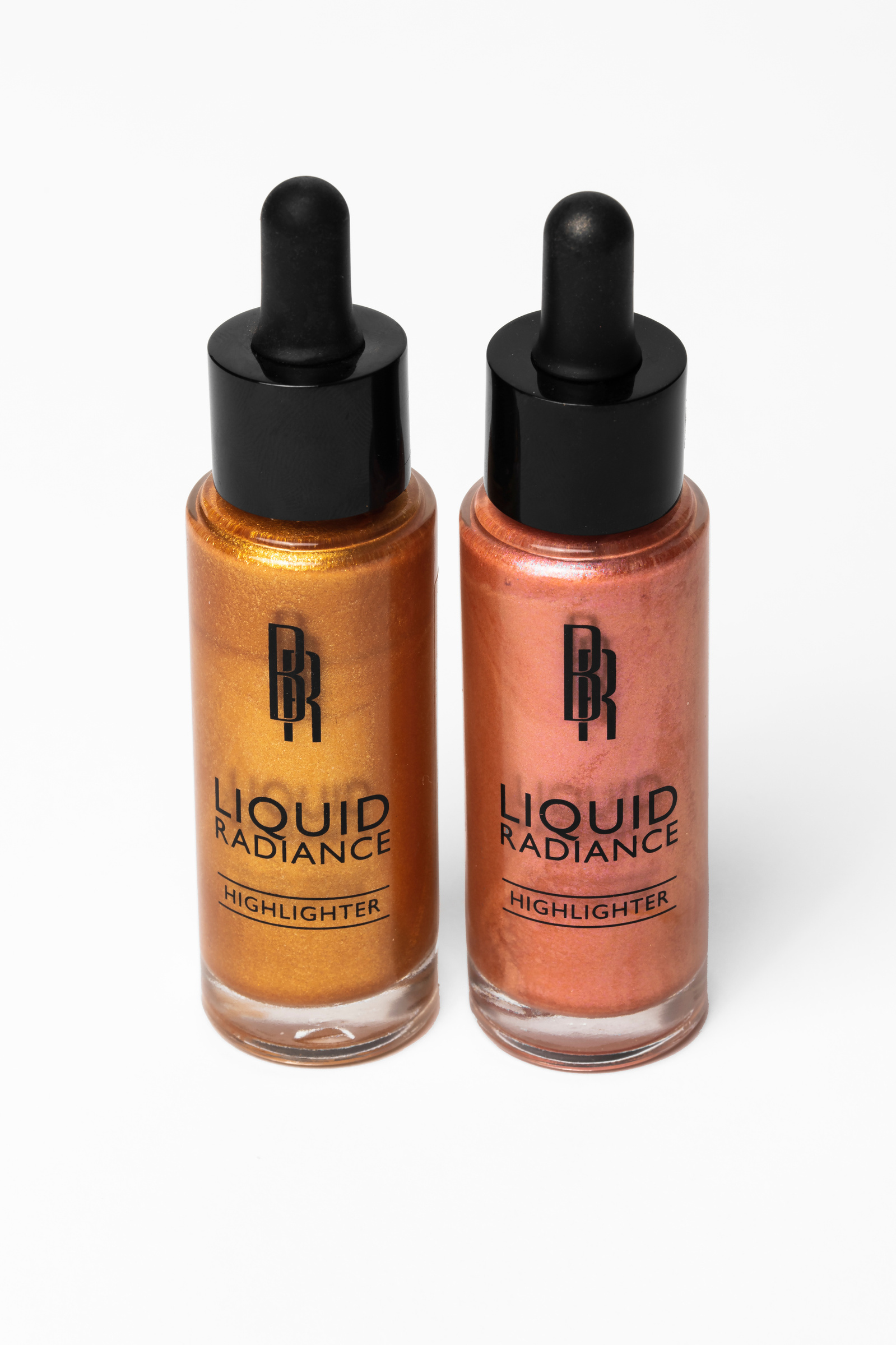 The "Liquid Radiance" highlighting liquid from Black Radiance is probably my favorite "drug store" product. The only drawback is that it doesn't come in a much bigger bottle. If this product came in jugs, I would buy the jugs. It is just that good! The colors are multi-dimensional and pigmented. One little squeeze from the dropper can cover most of the chest if used on a flat top buffing brush. It sits beautifully on the skin and sets down very nicely to a natural and radiant glow. Being that the colors are so pigmented and rich, I find that they are best used on medium to deep skin tones as they may overpower fairer skin tones.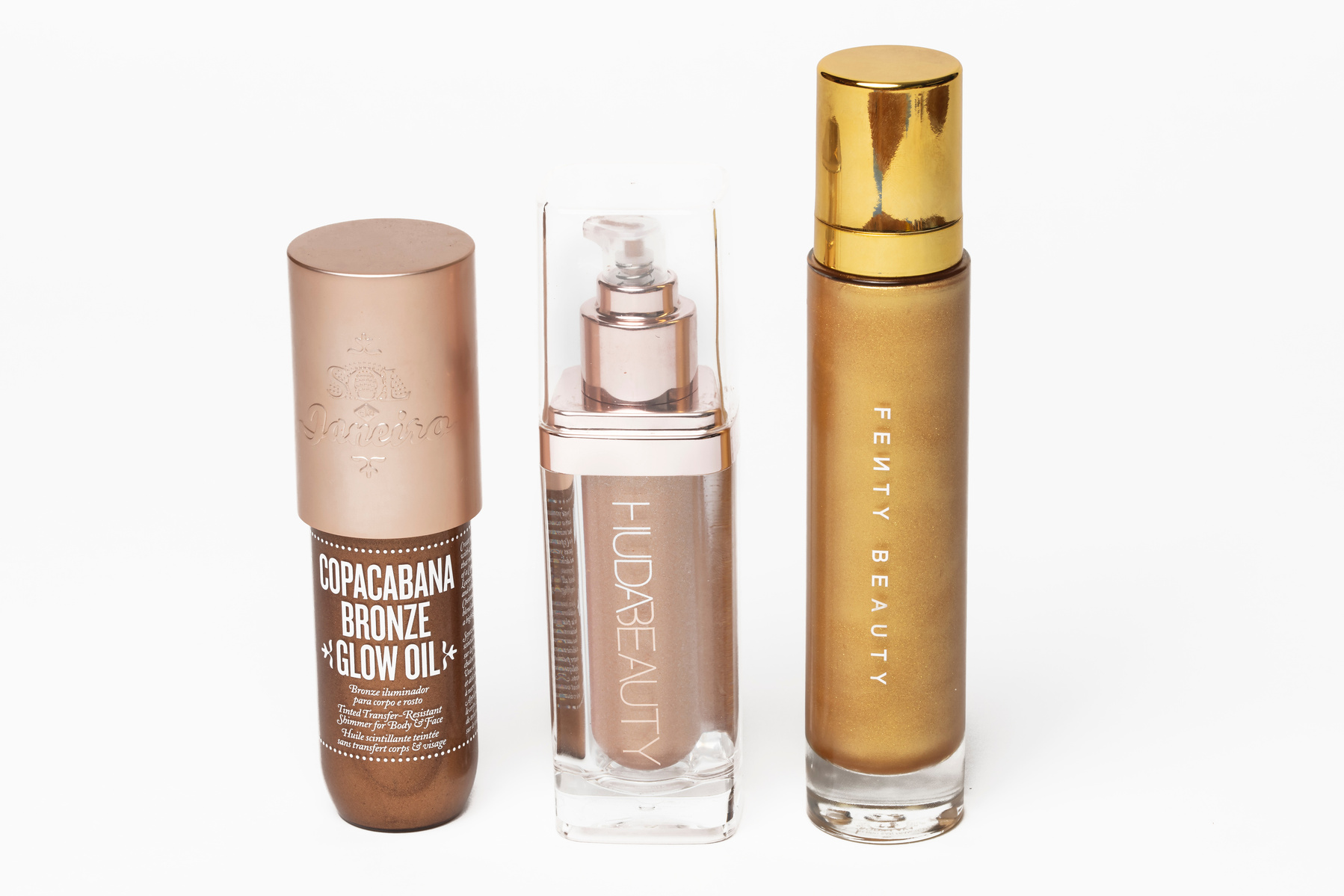 These are my favorite higher end products. I dont use them as liberally as the drug store products. I find that these three products are great for mixing with moisturizer, strobe cream, liquid foundations and for use over complexion products. All of them set beautifully and are easily buildable and do not become streaky if layered on. The Fenty "Trophy Wife" Body Lava does have quite a bit of glitter in it and is quite yellow gold. So if the objective is a natural glow, the body lava may not be the best for that. I have the Huda NYMPH liquid highlighter in "Aphrodite". An excellent product, it is extremely pigmented and has some lovely champagne tones that are flattering on fair to medium skin tones. I would not use this on deeper skin tones as it can look a bit ashy when the light bounces off of it. Lastly, the Copacabana Bronze Glow Oil is a tanning dry oil based product. It should be used liberally if you want it to show on camera. This particular color is for medium to deep skin tones. It can easily be combined with other products or used underneath complexion products to add depth and richness to the skin.
Cream and liquid complexion products create the most luminous and natural finishes and are also more easily able to be built upon, touched up and adjusted during the shoots, especially if you are looking to execute multiple looks during the shoot. Optimally, the makeup artist would remain on set to provide touch-ups and to makeup adjustments to the skin. I avoid complexion powders as much as I can as they are more difficult to build and adust, can create cakiness and a dry effect, tend to soak up natural oils which mattifies the makeup, thus nullifying all of those glow products you just use, and often will sit in the peachfuzz and baby hairs on the body and is a pain to erase in post. Every now and then, especially depending on how dry or absorbent the models skin is, whomever is in control of the skinwork should step in and refresh the model with a moisturizing spray. There are a few that I prefer on my sets. MAC also makes several Prep + Prime Fix+ Sprays. I like their original Fix+ which is a clear formula that can be used to prep the skin and put down a damp layer and to set makeup and keep it looking fresh. They also have Goldlite and Pinklite Fix+ which have tiny gold or pink reflective pearls and sheen that keep the makeup looking luminous and add a glow if the skin starts to absorb the glow products without having to cake on more heavy liquids and creams. The idea of all of this is to break skin preparation down into defined steps and to build product in thin layers so that the glow looks natural and is multidimensional in effect. If you don't build the product slowly and instead slather it on, it can look very cakey and slapdash. This is not ideal as all of that gunkiness will pick up on camera and the application will look sloppy and forced.
Finally, all of this preparation would be for nothing if you or the photographer does not consider the lighting execution. Its relatively easy to get glow products to shine in the sunlight and picking that up on camera is also rather simple. For studio lighting, I prefer high contrast lighting with minimal diffusion. I manage to pick up the most contrast and glow in camera with large silver deep parabolic umbrellas in combination with my strobe lighting. I may use a diffuser on my silver umbrella if only to keep my highlights from blowing out and smooth the transitions between colors and lessen shadows. Depending on the power of the light I can still easily pick up the glow in the skin regardless of if my silver umbrella is diffused or not. A shutter speed of 1/160 and ISO 100 combined with whatever preferred f stop will give you bright luminous highlights. Be sure to monitor your whites to make sure your highlights dont become blown out. Its easier to dodge in a highlight to accent it in post than to try and bring down and minimize the highlight. If push comes to shove, I will underexpose slightly to protect my highlights and ALWAYS SHOOT IN RAW format. Preferably set your White Balance with Kelvins to make sure you whites are nice and crisp and to make sure that if you're using colored highlighter that it actually picks up in the color you want it to. Otherwise the colors, especially if they are multidimensional and have multiple colors to them, may be distorted when you're trying to color correct in post.
If push comes to absolute shove, you can of course use oil sheen or baby oil. Just make sure to moisturize as well as possible, and to rub the product in and apply as thin buildable layers as opposed to bathing your model in puddles of oil. Ive gotten excellent results with Ors Olive Oil Hair Sheen as at the time I didn't have an glow liquids on me. We shot these sets in hard sunlight round 2 pm in the middle of a park. And we made do beautifully.